The Sounds of Classical Guitar & Hammered Dulcimer
Interview on XPN 88.5 FM Radio's Folk Show with Chuck Elliott
Cliff and Brian appeared on The Folk Show with Chuck Elliott on Sunday, August 18, 2019. Click here to listen. If the music doesn't start immediately, click on The Folk Show — 08-18-19 in the right dialogue box.
Exciting News! Our new CD is now available. . .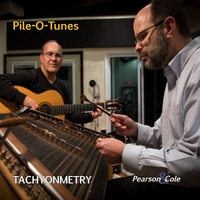 Tachyonmetry's newest CD, Pile-o-Tunes is now available on CD Baby, where you can download the recording (or individual tracks) or order the actual disc. The recording is also available on Amazon MP3 and iTunes.
In Pile-O-Tunes Brian and Cliff tread further into uncharted waters, branding their unique sounds on a nice mixture of vocal songs and more instrumental tunes.
Our first EP proved that our logic still holds true: Tachyon are particles that move faster than the speed of light. Tachyonmetry is the measurement of tachyons expressed in units of music.
Also available. . . .
Sunset Waterfall is an eclectic mix of instrumental folk, classical, and original music featuring Cliff and Brian, sometimes backed up by a few of their musical friends.
MERRY CHRISTMAS!

Download the MP3 as our gift to you from the Music Page